The Automotive industry invests in "smart supply chain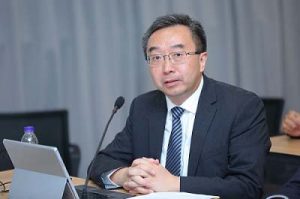 The following is a recent interview by the Italian magazine Pneurama with Mr. Young of Shentou Supply Chain Management Company in Shenzhen China. The interview was conducted in English and the Italian version of the interview is published on the 4th of September, 2020. Click here to view the Italian article.
The Automotive industry invests in "smart supply chain"
For Sean Young, Deputy General Manager of Shenzhen Shentou Supply Chain Management. Co., cloud-based computing, faster communication networks and live-streaming applications will be the tools on which to build the future cross-border supply chain of the aftermarket.
Pneurama:
In recent years, the Asian market for the automotive industry has experienced a strong increase, acting somewhat as a thermometer for the health of the sector worldwide. What influence has COVID had on this sector?
Shentou:
The automotive market in China is recovering, not only in the OEM sector but also in the aftermarket. In late April, we surveyed 52 aftermarket factories covering approximately 19 product groups, and the survey results showed that in terms of production status, assembly line personnel, suppliers and local transportation, almost all the plants reported the return to normal operations. As for the available capacities, all the factories have very narrow margins, less than 30%, while 30% of the companies report that they have the available capacities of 10% and below, all this may be due to the overload of the local business after the recovery and growth of international orders. In addition, production lead times are longer than in the pre-pandemic period, but most factories still remain around 60 days or less.
Now, during the recovery period, we are looking at something very interesting.
Pneurama:
What is it about?
Shentou:
We have noticed a fundamental change by the automotive industries after Covid-19, especially in the ways in which global aftermarket communities coordinate their businesses, including supply chain management. We also noted the wider adoption of new business practices, especially in international trade, which have been made available thanks to new advanced technologies such as cloud-based computing, improvements in communication networks and devices, and live applications. – very advanced streaming. This profound impact of the coronavirus has already transformed traditional cross-border supply chain management into an updated business model that we could call post COVID-19 cross-border supply chain management, or simply SCM C19.
Pneurama:
Who is this model aimed at?
Shentou:
I believe it addresses all the challenges of the international aftermarket communities that depended on supplies from abroad. It is presumed that for some time most international buyers will not be able to travel or will have restrictions on travel. If so, how will supplies be identified and pre-qualified? How to inspect or audit factories? How will pre-shipment and inspections be handled? It is in this case that SCM C19 could come into play. This model could provide international aftermarket communities with a system to deal with the new COVID-19 phase, with SCM C19 European buyers will be able to continue ordering supplies from China, and the whole procurement process can be strengthened both by available technologies and a variety of on-site services, both in Europe and China, so that cross-border purchases can be conducted smoothly and safely overseas, even if you don't meet in person, without international buyers coming to China.
Pneurama:
In practice, the use of technological tools makes it possible not to interrupt the supply chain and continue to do business.
Shentou:
Yes, with SCM C19 many operations of international supply chain management will be simplified by the technology that will allow international buyers to participate from afar and in real time. Consider, for example, the on-site inspection or audit that can be carried out by local service providers in China, while international buyers can participate and monitor the process via live streaming. The same also applies to quality control. Also in this case, local inspectors can be present on site, while international buyers can participate remotely to verify the critical elements of the inspection.
Pneurama:
Another important issue is related to the minimum order. In this case, in your opinion, how should we move?
Shentou:
Several international buyers complain of the high MOQ (minimum order quantity) required by the factories, which also represent a higher risk for the business. In this case, I think that activities such as group purchasing can be organized to help reduce the problems of MOQs. In my opinion, we will see activities where, with multiple LCL orders from different buyers, a complete shipment for Europe can be consolidated.
I think the traditional management of the cross-border supply chain in the global aftermarket community will have to change to survive in the new post COVID-19 economy.