SCM C19: Cross-border Supply Chain Management in the
aftermath of COVID-19
COVID-19 has fundamentally changed how the global automotive industry, especially the aftermarket communities, conduct their businesses, including the management of supply chains.
COVID-19 has also brought about wider adoptions of many new business practices in cross-border supply chain management, which are made possible by technologies such as cloud-based computing, advanced live-streaming applications, improved communication networks, and devices, and the promise of revolutionary 5G technology.
The profound impact of the coronavirus pandemic has already transformed the traditional supply chain management across the border into an updated business model that can be called as: Cross-border Supply Chain Management post COVID-19, or simply SCM C19.
The focus of SCM C19 is to address the specific challenges to the international buyers who are no longer able or willing to travel overseas for their procurement operations, such as:
How to identify and pre-qualify new suppliers
How to inspect and audit potential suppliers
How to manage QCs such as pre-shipment inspections
SCM C19 also addresses some of the long-standing obstacles in overseas purchases that have been made even more serious by the pandemic:
How to lower the inventory cost by avoiding large-volume or high MOQs purchases
How to improve the working capital turnover by cutting short the time from ordering to selling.
SCM C19 provides a general framework for the global aftermarket communities to deal with these challenges and many other new norms post COVID-19: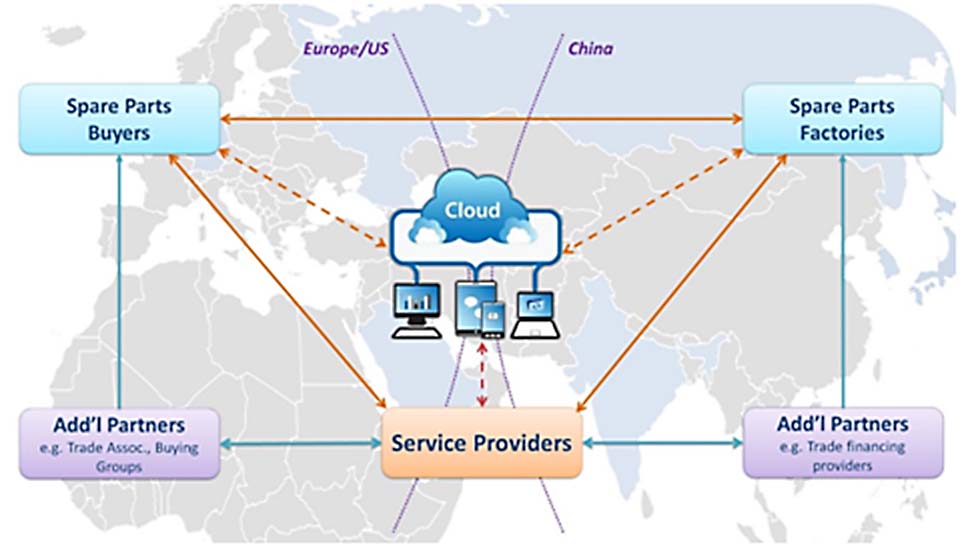 With SCM C19, businesses in Europe and the US are still buying from suppliers overseas such as China, and many operations of cross-border SCM are still based on traditional on-the-ground activities. But the whole process is now supplemented by both the technologies which enable remote and real-time buyer participations and the third-party service providers who are working locally in China and overseas so that although international buyers are not coming to China personally to meet the sellers face to face, cross-border purchases can still be conducted smoothly and safely across the ocean.
Key SCM processes and possible SCM C19 solutions
Let us look at how key processes of cross-border SCM are impacted by COVID-19 and some of the solutions available for the international aftermarket communities to address the challenges.
● Supplier Identification & Initial Screening
Traditionally the business communities rely on internet searches, emails and telephone communications to identify and establish initial contact with potential suppliers overseas.
With COVID-19, people are turning to tools such as cloud-based technologies, live match-making sessions and video-conferences for such purposes.
For example, under SCM C19, more businesses are attending cloud-based trade shows to find the potential suppliers and using video-conferencing for introductory meetings. Live match-making between buyers and sellers by video-conferencing is sometimes sponsored by trade and official business promotion organizations, with the added assurance of pre-qualifications by the sponsoring partners. Buyers and sellers are also assisted during the live sessions by service providers for coordination and language services.
● Supplier Qualification
Pre-COVID-19, business typically uses supplier questionnaires and on-site visits for initial factory inspections or audits based on ISO9001, IATF16949, ISO14001, ISO45001 &BSCI. Follow-up visits may also be needed for verifications of non-conformity corrections.
With COVID-19, the business communities are forced to supplement offline activities with online communications using tools such as cloud-based live-streaming.
Under SCM C19, local service providers first work with the buyers to jointly determine the detailed inspection requirements and the audit procedures, especially the identification of product-specific critical processes.
On-site inspections and audits are then performed by local service provide who also make video-recordings of the process for later online reviews by the buyers. And inspections or audits of the pre-determined critical processes are live-streamed at pre-determined time so buyers can remotely monitor and participate in real-time.

● Commercial Negotiation
In the past, RFQs, quotations, and commercial negotiations are always handled through emails, phone communications, and most importantly face to face meetings.
With SCM C19, the physical meetings are replaced with video-conferencing which provides a much better and effective experience than simply with emails and phone calls. When consultations, coordination and language services are needed, local service providers could also get involved.
● Quality Control
Pre-shipment Inspection is a vital part of quality control, especially with new suppliers or new products. When the supplier quality stability is an issue, strict pre-inspections are even more important to buyers. The standard inspections, including pre-production and in-line inspections, are always done with on-site operations by either the buyers or third-party service providers.
With COVID-19 when international buyers are no longer able to personally check the products before shipment, they can still engage local service providers for on-site activities but participate in the process remotely.
Before the inspections, local service providers work with the buyers to jointly determine the acceptance criteria and inspection process, especially the identification of product-specific critical inspection points.
Local service providers then undertake on-site inspections and make video-recordings of the entire process for later online reviews by the buyers. And inspections of the pre-determined critical inspection points are also live-streamed so buyers can monitor and participate remotely.
● Warranty handling for complicated technical or quality issues
When handling complicated technical and quality issues, sometimes communications solely by emails or phone calls are simply not sufficient or satisfactory.
With SCM C19, remote handling of complicated technical and quality issues is enhanced by the use of tools such as video-conferencing, and local service providers with the necessary technical or quality competence can also assist during the live sessions.
● Additional SCM C19 solutions for the long-standing issues in cross-border purchasing
International buyers for aftermarket are almost always troubled by some long-standing issues when making purchases overseas, such as high MOQs required by suppliers, the choice between FCL and LCL orders, and the extended period from ordering to delivery.
In the face of COVID-19, international buyers are under more pressure to avoid the high MOQs, reduce the high cost of LCL orders, and improve the inventory turnover.
● Group Purchasing
Factories set high MOQ for various reasons, factories sometimes would also hold low-volume orders for a long time until they have accumulated enough orders for the same parts so productions are more cost-effective.
With SCM C19, buyers can participate in online "Group Purchasing" sessions organized by competent service providers that are designed with discounted prices to be applied at target quantities within fixed durations.
● LCL Shipment Consolidation
More companies now prefer to purchase in smaller quantities, and many more are not able to always order in full container load (FCL) when it comes to buying from overseas.
With SCM C19, international buyers could place LCL orders. Service providers then consolidate multiple LCL orders from different buyers for the same region into FCL shipments to a common port within the region and finally coordinate the shipment of each buyer's order from the port to the final destination.
While the consolidation roles are traditionally played by freight forwarders, the involvement of experienced service providers can provide buyers with the added benefits of careful planning in purchase and consolidation to ensure the most cost-effective product group selections based on geographical considerations as well as product safety in transit. Moreover, the experience of the service providers as well as their relationship with the factories can also enable the buyers to enjoy preferred prices from the consolidated purchasing powers.
● Express Shipping between China to Europe
Railway services such as China Railway Express from China to Europe have been in use for many years. While the costs are obviously higher than ocean freight, the shipping time from China to Europe is typically cut in half or even shorter.
With SCM C19, when the market could change unexpectedly at any time and shorter delivery time means higher security and lower risks, the substantially short delivery time from China to Europe with the railway services could be justified especially for companies dealing with high-valued products.
● Trade financing support
Financial risks are becoming even higher in the face of COVID-19 for all parties, including the sellers and the buyers.
Under SCM C19, financial institutions or other service partners are encouraged to set up special trade financing programs, for example, Special Export Credit Insurance for sellers, so that sellers are encouraged to extend more credit facilities to buyers.
In summary, the traditional cross-border SCM has changed substantially in the aftermath of COVID-19. New approaches are needed to address the many challenges of the new norms of the business. SCM C19, the cross-border SCM post COVID-19, provides a general framework and practical solutions for the global automotive industry, especially the aftermarket communities, to effectively survive the impact and continue to grow.