Belarusian dream for cars – realized in partnership with
Geely and with help from SHENTOU
The Republicof Belarus is a beautiful country situated in Eastern Europe. In 2011,Belaz, the major manufacturer in Belarus for mining and construction machinery,Geely, the Chinese auto maker which owns Volvo Cars, and Soyuz, a joint venturebetween BATE, the Belarusian State Holding Company of "Automotive Components",and SHENTOU, set up a joint venture in Belarus to assemble and produce Geelycars for Belarus, Russia and Kazakhstan.
This is a project introducedto Belarus by SHENTOU. With Soyuz as the joint-venture party responsible for thelocalization of the vehicle parts and components, SHENTOU has actively participatedin the development of Belarusian automotive industries ever since.
The joint venture,Geely (Belarus)
 Automobile Co., Ltd., or Belgee, is the only domestic producerof passenger cars in Belarus.
As the first joint-ventureproject between China and Belarus, it has the strong support from both theBelarusian and the Chinese governments. In a recent signed article by PresidentXi Jingping of China, Belgee is said to have enabled Belarus to realize itsdream for cars.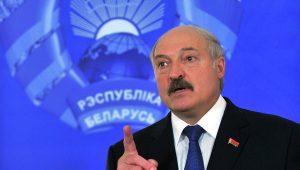 This is becausebefore 2012, almost all the vehicles running in Belarus were second-hand carsfrom Germany, Italy and other European countries, despite the domestic industrialdevelopment in Belarus. So having cars made in Belarus had always been thelong-cherished dream of Mr. Lukashenko, the President of this industrial power.With the successful rollout of Geely cars assembled by Belgee, Belarus hasfinally had a locally produced national car.
On 7th ofApril, 2016, Mr. Lukashenko, the Belarusian President, made a decision toexclusively use cars produced by Belgee as official vehicles for all levels ofgovernment in Belarus. The plan will be implemented in stages and no cars forofficial use are allowed to be imported any more.
With the promotion ofChina's "Belt and Road" initiative and the attention from PresidentXi, the first cooperation project between Belarus and China has recently movedinto the fast lane.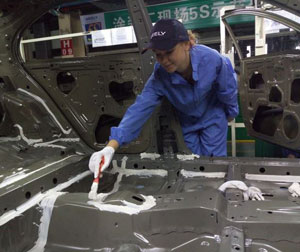 Belgee has so far sent 92 of its Belarusianemployees to Geely China for special training. Anna, who has become an expertin the painting workshop, is busy training other Belarusian employees.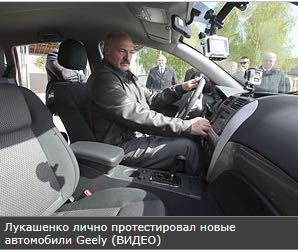 In May 2014, Mr. Lukashenko, President ofBelarus, was test-driving a new Geely car model assembled by Belgee.
Mr. Shimeishake, the Belarus Deputy Prime Minister,is very grateful to the "Belt and Road" initiative. "China is reallyhelping us to develop the national industry. They have helped this generationto realize its dream for cars", he said.
Leveraging the "Belt and Road" initiative,SHENTOU will continue to provide products and services for automotive companiesboth in China and in the world.
For details please refer to:http://original.hubpd.com/c/2017-04-23/574719.shtml