Supply Chain Development, Management & Optimization
● Supplier Development & Management
● Product Development & Sourcing
● Project Management
Supplier Quality Management
Quality Management System (QMS) Consulting
● QMS Setup according to ISO9001 or IATF16949
● Continuous quality improvement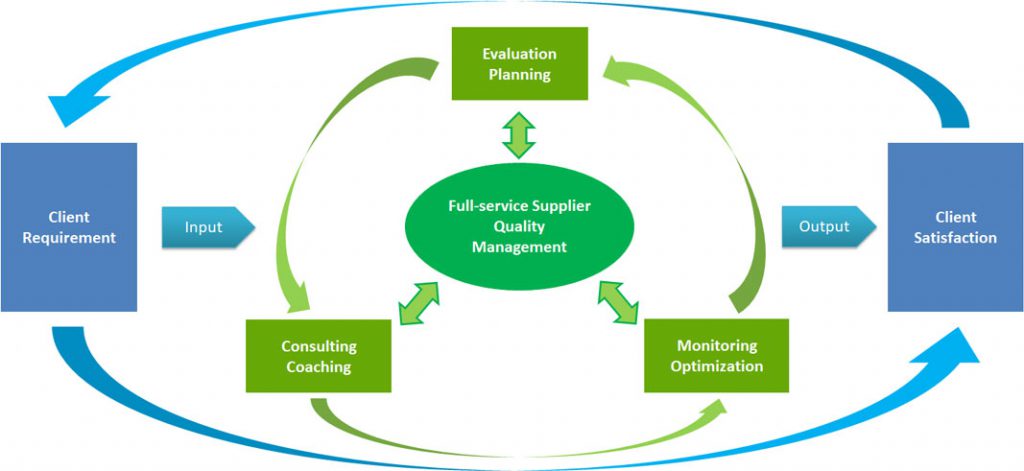 Quality Management System (QMS) Audit
● Focuses on the development, documentation and implementation of the organization-wide QMS to determine its compliance with corporate policies, contractual obligations and regulatory requirements.
● Covers the supplier's general QMS, production processes & products
● Includes full documentation and on-site audits
● Follows with consulting, coaching, monitoring & verification for nonconformities (NC) corrections & continuous improvements.
Process / Control Plan Audit
● Focuses on specific processes designed for the Client's products
● Typically based on factory's Control Plan, so also called Control Plan Audit
Product Audit
● Focuses on specific products the client is purchasing
Factory Inspection
● Simplified QMS Audit to provide an efficient and cost-effective tool for international buyers to assess a factory's basic capability in supplying quality goods so the buyers can make sound purchasing decisions.
Recommended Audit Types & Cycles:

Remark: PROCESS_1 = Process Audit relating to products covered by the factory's certification
PROCESS_2 = Process Audit relating to products the client is purchasing
PRODUCT = Product Audit that focuses on products the client is purchasing
Shentou has been assisting international automotive OE customers in the development, management and optimization of their China supply chains for over 2 decades.
When international OE clients want to develop products in China, Shentou supports the clients in supplier qualification and selection, management of product development, procurement process management and supplier quality management.
Working closely with the clients, Shentou would monitor, coordinate, and manage the entire process according to the clients' requirements and instructions.
 Supplier qualification & selection:
● Receiving RFQ from the client (with detailed information, including 2D & 3D drawings, specifications, volume, project timeline, etc.)
● Research for potential suppliers from existing supplier database as well as cultivating new suppliers based on the client's requirements (Long List)
● Initial benchmark
● Pre-auditing by Shentou based on IATF 16949 using Shentou's internal audit reporting format (Short List)
● Official inspection & auditing by the client based on the client's audit reporting format, to be assisted by Shentou
● Selection of supplier(s) based on audit results, requesting for corrections of non-conformities discovered during audit and quality improvement
● Supply Contract negotiation on behalf of the client
 Management of product development project:
● 3D rough/raw part design and approval
● Tooling design and development
● Tooling trial (through manufacturing – samples/drawing/testing report submission)
● Sample validation
 Procurement process management
● Purchase order management
● Production status monitoring
● Delivery & logistic coordination
● Shipping documents verifications:
  ∗ Invoice
  ∗ BL
  ∗ Pre-shipment Inspection Report
  ∗ Test Report
 Supplier quality management
●Quality performance monitoring
● Annual audits

Quality complaints/warranty claims handling
● Customer report
● Factory feedback
● Technical support
● 8D Report
Shentou's Value-additions to Clients
 Reducing the overall costs of procurement operations
●Lower product & production costs
●Reduced costs of labor and travelling by European staff

Minimizing costs from potential quality risks
●Catch potential quality issues earlier
●Continuous quality improvement
For more information please go to

www.ShentouService.com