Case One: Quality issues in the development, production, packing and transportation of aftermarket brake drums
(Continued from the last issue)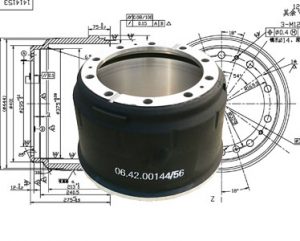 Issue Description (2): A client learned that his aftermarket brake drum supplier in China did not have the complete range of items he wanted to purchase, so he asked the supplier to develop the missing ones and provided the drawings. Unfortunately, the new items were not developed and produced exactly as the drawings and the QC staff of the supplier also failed to effectively control the quality of the newly developed models according to the procedures of product development. In the end the client received goods which did not completely match the drawings.
Case Analysis: For aftermarket auto spare parts, customers would typically rely on the OE numbers to identify the models and make the purchase, rarely would they provide drawings as is the standard practice for OE supplies. For the aftermarket factories, most if not all of the products are developed by reverse engineering. Quite often it is hard to confirm if the development samples are indeed the original parts and to ensure the quality of the drawings as well as the completeness of technical specifications and requirements.
After a drawing is received, the factory would usually first check whether they have current products with similar structure and main specifications. If they can identify existing products with similar structure and specifications, they would develop the new items based on the existing products, and some small differences would be easily overlooked or simply let go. Yet when the customers receive the new items, they would check against the original drawings and discover the discrepancies in the specifications, resulting in rejections and quality claims.
In fact, when it comes to new product development by the aftermarket suppliers, we need to undertake evaluations and verifications of their capabilities in product development and production including drawing processing. We should also validate the molding and tooling before the production gets started. Meanwhile, attentions should be paid to the product acceptance standards of each procedure, the parameters of process quality control, the pre-shipment quality control standards as well as inspections before shipment.
(To be continued)
By Felix SS YUAN