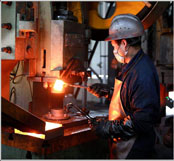 One of the key processes in melting for casting products is the control of their chemical composition, i.e. to ensure that the 5 elements, namely carbon (C), sulfur (S), silicon (Si), manganese (Mn),and phosphorus (P), are within the required material specifications.
But how they should be controlled, what tests should be used, with what methods and standards, these should be determined before the start or production in order to meet the customer requirements.
First, it is important to confirm with customers beforehand on what standards to follow, such as Chinese, European or American, as well as the acceptance criteria and testing methods.
In the melting process, different factories have different methods to control the main carbon content along with the other chemical elements. Typically the carbon silicon testers at the furnace, the spectrometer and/or the carbon sulfur tester are used, but the readings from these three methods are all slightly different.
When customers have no specific requirement on how the carbon content is tested, the use of carbon sulfur tester for testing the carbon content, based on standards of China's foundry industry, is generally accepted and their readings are usually considered the most authoritative.
Customers sometimes complain that the products they've received show a lower carbon content which do not meet the technical requirement. But the foundries would then produce test reports for carbon content from the carbon silicon tester at the furnace to show that the results meet the requirement. The discrepancies are usually results of different testing methods by the two parties, with customers using spectrometers to obtain the carbon content level.
So what type of tests are the most reliable? Other than confirming the acceptance standards and testing methods with customers first, the experienced foundries would use carbon silicon tester at furnace for quick analysis to adjust the carbon content of the molten metal and use the carbon readings from the carbon sulfur testers as the basis for conformity, while relying on the spectrometer readout for the other elements. Moreover, they would periodically calibrate the carbon sulfur testers and the carbon silicon testers at furnace, and compare the carbon readings from the carbon sulfur testers with that of the carbon silicon testers at furnace to ensure consistence between the test results from the two methods.
By Felix SS YUAN