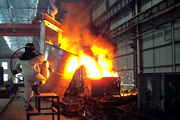 Casting products account for a significant portion of automobile parts, such as engine cylinder, cylinder head, transmission housing, intake & exhaust manifold, crankshaft, camshaft, piston, wheel hub, brake disc, brake drum, etc. According to industrial statistics, casting products account for approximately 33% of all automobile parts in the US, the percentage is less than 20% in China. About 10.5% of the components of a finished vehicle are iron casting, and another 6.4% are aluminum casting.
These casting pasts are not only of large volumes, they also require high quality. Buyers of such casting parts should be concerned with the following four key production processes for casting where the potential quality risks are the greatest.
(1) The mix ratio of raw materials for casting and the control of production with different materials using the same casting line.
Foundries will decide on the casting mixture based on the materials required by customers. The main raw materials such as pig iron, steel scrap and returns are then added into the melting furnace with the use of a crane magnet.
The potential risks during this process include:
●If the storages are clearly marked to identify the different raw materials such as pig iron, scrap steel and the returns, to prevent wrong materials from being fetched;
●With factories producing casting products with different material on the same line, such as grey iron, ductile iron, vermicular graphite iron and so on, it is important to check if the returns storages are also marked for different materials, to prevent wrong or missing markings of the storages;
●Lastly it is important to check if returns of different materials are mixed in the same return storage, to prevent the misplacement of the returns.
Incorrect storage marking and mixed materials will result in inaccurate casting mixture, making chemical composition and mechanical property of the melted iron falling short of the requirement. If returns of grey iron are mixed in the production of ductile iron products, for example, the products' tensile strength will be significantly reduced, which are fatal to the safety parts of the brake system.
If the order volumes can meet the capacity requirement of the casting line, the better strategy is to ask for a dedicated line for single material production.
To be continued
By Felix SS YUAN