Automotive Aftermarket QMS Standard (IV)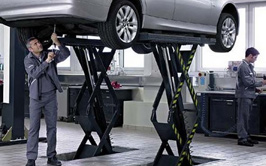 The current certification process of the automobile quality management system (QMS) typically relies on a system whereby an organization will be judged to either "pass" or "fail" the certification audit. This makes perfect sense for the suppliers in the OEM supply chain, where the QMS of an organization that has been certified to IATF 16949 can be generally expected to perform about as well as that of any other similarly certified organization. When it comes to the diversified and differentiated aftermarket industry, however, this approach is quite unrealistic and not really applicable.
There are distinct differences between the OEM sectors and the aftermarket in terms of the supplier organizations, product structures, and production scales. Even among the aftermarket manufacturers for the same product group, there are also huge variations in terms of corporate strength, technical competence, and production capability, which usually means substantially different sophistication of the QMS from factory to factory, not to mention the differences between those making safety and non-safety parts.
In the complicated world of the aftermarket, a simple "pass" or "fail" does not truly reflect the effective quality assurance capability of the organization, nor does it demonstrate the real competitive strength or weakness among different organizations producing the same group of products.
A more reasonable and realistic approach, as advocated by the Alliance of Automotive Aftermarket Quality Assurance (AAAQA) with its Automotive Aftermarket QMS Standards currently under development, is to assess the effective strength of the quality assurance capability of an organization with a rating system which applies to each of the critical components as well as the overall QMS. With such a rating system, international aftermarket buyers can intelligently review the parts as well as the whole QMS of an organization and make a practical selection choice as well as a sound procurement decision based on their own requirement of supplier risk management.
For more detailed information on the aftermarket QMS standard and the general project, please visit www.AAAQA.org.